To stay up to date with African news, subscribe to the "Monde Afrique" newsletter from this link. Every Saturday at 6 a.m., find a week of current events and debates treated by the editorial staff of World Africa.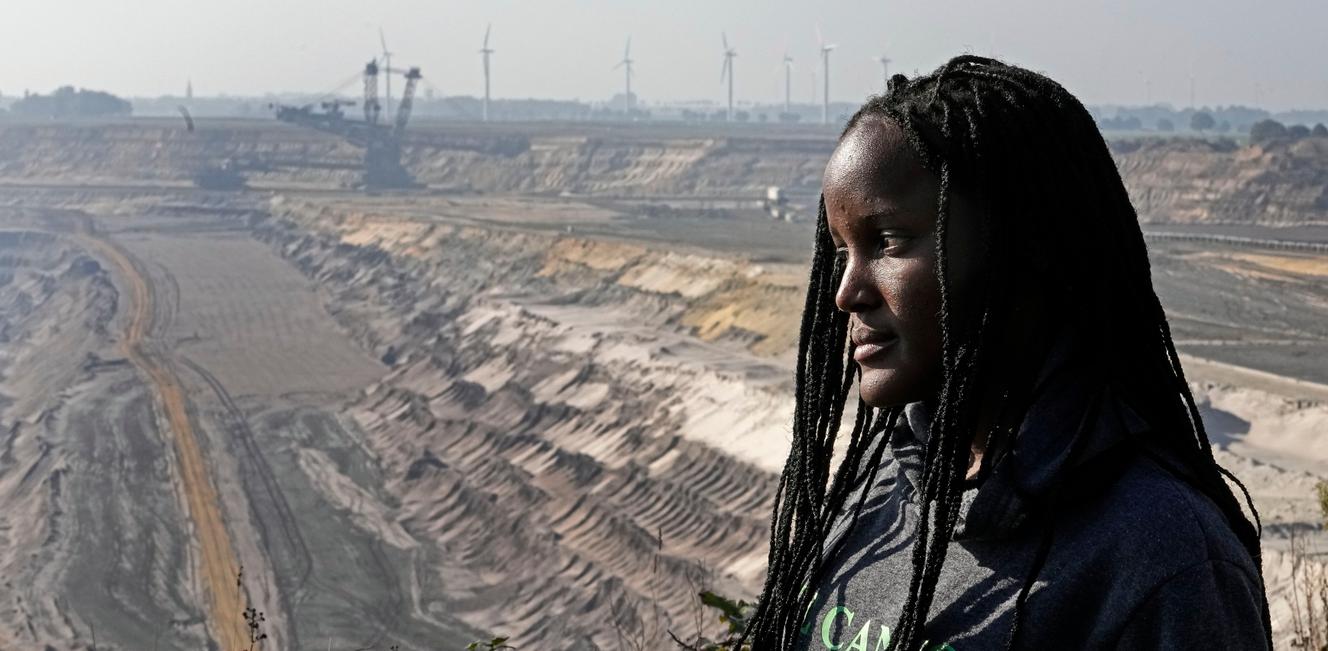 Ugandan Vanessa Nakate, who will be 25 on November 15, is one of the most visible figures among the youth who are mobilizing around the world to demand from governments concrete responses to climate change. She created the Rise Up movement to encourage engagement in her country and on the African continent. She participates in the Glasgow climate conference and has just published Ecology without borders (Harper Collins, 256 pages, 18 euros).
When did you first become aware of climate change?
Vanessa Nakate: In 2018, I started trying to understand why the communities around me faced an increase in extreme weather events, such as floods, droughts, landslides … and their consequences, which resulted in the loss of life, the sudden destruction of houses, farms or livelihoods. I had heard about climate change in geography class, in high school, but in general. There was no question of the impacts in a country like Uganda. I didn't even know that the 2015 Paris climate agreement existed and that international negotiations were continuing. What I discovered made me want to do something. It was when Greta Thunberg launched the Fridays for Future movement and the student climate strikes; I immediately saw it as a powerful tool to raise awareness of the situation and demand climate justice.
Access to information on these subjects is therefore a major issue for young Africans?
Yes, because there is a real information deficit. Most young people notice that their environment is changing, but they do not necessarily make the link with the use of fossil fuels. Activists are popularizing on social networks, that's how we can access knowledge.
You insist on the difficulty for a young African woman to go out in the street with a sign to protest. However, the most famous figures of the movement are women, why do you think?
Going out into the streets to strike every Friday is not as easy as it sounds with us. I had to face criticism, sometimes very hurtful. I was called a prostitute or told I had better look for a husband. A boy will never be subjected to such comments. But, it's true, the girls are at the forefront. I believe that they are acutely aware of the inequalities they face in society. Take the example of the Covid-19 pandemic. We just learned that more than 20,000 additional girls got pregnant last year [par rapport à 2019] in a single region of Uganda. Many of them will not be able to go back to school, they will have to take care of their babies, some will be forced to marry. Climate change increases these inequalities because women are disproportionately affected. In rural areas, their job is to fetch water, provide meals … When a natural disaster strikes, it is the family's livelihood that sometimes disappears in a few hours, and they have to work even harder. to give what is expected of them. Girls may be forced to drop out of school to help their mothers. Or families no longer have enough money to pay for school for all their children and boys are privileged.
How do you manage to mobilize yourself in the Ugandan political context, where freedom of expression remains under scrutiny?
It's difficult, and that's why you won't see big events there like there are in Europe. Sometimes we are refused permission to strike, and we do not manage to raise the money to organize the demonstration. And there is also the fear of being arrested by the police and the risks of repression. But we are not the only ones in the world …
The value we place on education also explains why school strikes cannot be as popular as in western countries. We are raised with the idea that education is the key to our future, and we know what sacrifices our schooling represents for our parents. We decided to go beyond that by organizing strikes in schools. These are actually times when, with the agreement of the schools, we talk to students about climate change and what should be done to contain it. Of course, this has all been put on hold with the pandemic and the closure of schools.
What do you expect from the Glasgow conference?
I want actions now. Not in ten years, not in 2050. This means in concrete terms that we must stop funding the extraction of fossil fuels. That leaders must be honest and not make commitments to reduce CO emissions2 if they are not going to respect them. A company like Total cannot set a goal of carbon neutrality in 2050 and tell us that in the meantime it wants to be able to build an oil pipeline that will cross East Africa. [Total est chef de file d'un mégaprojet d'exploitation pétrolière en Ouganda. Le brut sera évacué par un oléoduc de 1 445 km jusqu'au port tanzanien de Tanga, sur l'océan Indien]. We can no longer continue to destroy the environment. Governments must also be serious on the issue of funding. I want them to understand that for some populations, it is already no longer possible to adapt to the consequences of climate change. We do not adapt to the extinction of species or culture, to famine… These irreversible damages must give rise to compensation. It is the responsibility of the industrialized countries, which are at the origin of global warming. The principle was confirmed in 1992 by the United Nations Framework Convention on Climate Change, but in practice nothing is still happening.
You claim climate justice, how would you define it?
Justice must allow everyone to meet their basic needs. This can relate to access to food, water, health … so many areas disrupted by climate change. If we want to deal with the climate issue fairly, we must go beyond technological solutions, not just talking about renewable energies, electric vehicles… but ensuring that the most vulnerable populations are not further marginalized.
How do you see the future? Is there a place for hope?
I have to keep hope. This is the only way to keep moving forward. This is what makes me think that the future we want is not only necessary but also possible. All over the world young people are rising up to demand action and I know that if tomorrow I do not have the strength to organize a strike, one or another will. I am just one voice in a global movement.
We want to give thanks to the writer of this post for this outstanding web content

Vanessa Nakate, Ugandan climate activist: "I want action now, not in ten years"