BRUTX – ON DEMAND – DOCUMENTARY
It is never unnecessary to take an interest in the fate of Thomas Sankara. President of Burkina Faso from August 1983 to October 1987, the young revolutionary captain marked his time by his pioneering side, in terms of the defense of the environment or the place of women in society. However, as underlined by a documentary in two episodes broadcast on the BrutX platform, the Third World leader, an icon of part of African youth, remains little known in France.
"Do you know Thomas Sankara? ", asks Yali Sankara, a rapper ensuring that he draws his inspiration from the fights of "African Che Guevara" as much as from his personality. "By name, I know him, answers a young Parisian at the very beginning of this documentary. I just know that he is a great man and that he made history… I would have liked to have been told about him at school. The only thing we know about black history is slavery. "
If Sankara is so little known, it is because he has been erased from collective memories, including in his own country, Upper Volta, that he renamed Burkina Faso – "country of upright men". After his assassination, on October 15, 1987, at the Council of the Entente in Ouagadougou, a campaign of "rectification", aimed at tarnishing and then erasing all traces of the revolutionary president, was launched by Blaise Compaoré, his "friend", who succeeded him at the head of the country.
Read also
Thomas Sankara, the man of integrity
It will take twenty-seven years, and an insurrection in October 2014, for the latter to be driven from power and for the "children of Sankara" to revive the memory of the one who incarnated "An anti-capitalist, feminist and ecological revolt in the heart of Africa", in the words of Yohan Malka, the BrutX reporter. At the end of October – and without the presence of Blaise Compaoré, the main accused, currently in exile in Côte d'Ivoire – a trial opened in Ouagadougou to clarify the circumstances of the death of the pan-African leader. The Burkinabe people thirst for truth.
"Energy explosion"
The film shows well the"Energy explosion" that captain Sankara, 34 years old, provoked when he came to power, as Bruno Jaffré, his biographer, reminds us. On all fronts, he launched an agrarian reform which, in just four years, resulted in food self-sufficiency in Burkina Faso; builds dams, has millions of trees planted, builds a railway line "with bare hands" … He has also shaken up mentalities by making equality between women and men a matter of course, and integrity in politics , duty.
On a dynamic rhythm and lively music, the documentary combines archival images, some of which are little known, with testimonies from contemporaries. Partly shot in Ouagadougou, it goes to meet Basile Guissou, former minister of Sankara, or Fidèle Kientega, his chief of staff. The leader's "force of punchlines" fills the screen. We accept : "Capitalism is the arsonist of our forests" ; "You have to choose between champagne for a few and drinking water for all" …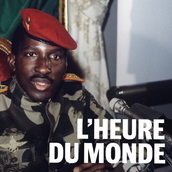 Also listen Thomas Sankara, an emblematic president with a tragic fate
In four years, Thomas Sankara has given the inhabitants of one of the poorest countries on the planet a form of dignity. The end of his mandate was however marked by authoritarian abuses (punishments, summary executions…) of certain committees for the defense of the revolution. Even if Sankara deplored them, they cannot and must not be obscured.
We would love to thank the writer of this short article for this awesome material

Thomas Sankara, the tormented journey of a "man of integrity", on BrutX