To not miss anything on African news, subscribe to the newsletter of World Africa from this link. Every Saturday at 6 a.m., find a week of current events and debates treated by the editorial staff of World Africa.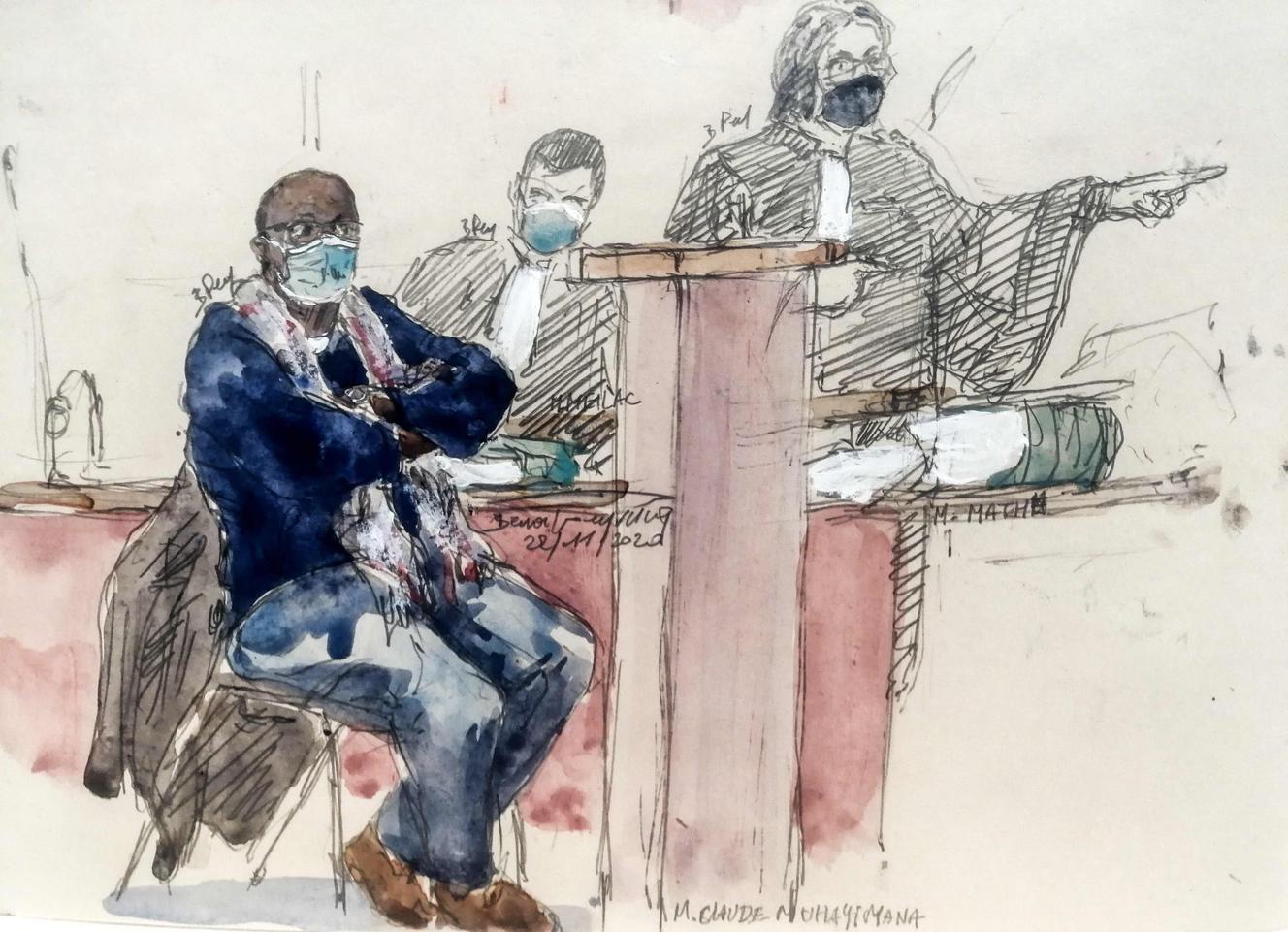 As they are linked to the "crime of crimes", the facts are imprescriptible. Wednesday, December 15 at the Assize Court of Paris, fifteen years of imprisonment were required by the general prosecutor's office against Claude Muhayimana for "complicity in genocide" and "complicity in crimes against humanity". Aged 60, the Franco-Rwandan has been appearing since November 22 for having led militiamen to various massacres during the genocide of the Tutsi which left nearly a million dead in Rwanda.
The facts date back to the spring of 1994, more than twenty-seven years ago. At that time, Claude Muhayimana was the driver of a guest house in Kibuye (in western Rwanda). About fifteen witnesses said, during the three and a half weeks of the hearing, that they saw him transporting, driving "Of a Blue Daihatsu" then "Of a red Hilux", Interahamwe, militiamen responsible for numerous massacres, in the surroundings of Kibuye and on the hills of Bisesero. Around Lake Kivu, the killings left at least 72,000 dead between April 7 and the end of June 1994.
Read also
Rwanda: opening of the trial of Claude Muhayimana for "complicity" in genocide
Claude Muhayimana "Positioned itself as close as possible to the crimes", said the prosecution. The accused "Cannot ignore what he has contributed", in particular because, on the platform of his vehicle, the militiamen sang that "Exterminate the Tutsis". "From the fetus to the old man, in open-air mass graves, a chain of life has been eradicated", explained Aurélie Belliot, general counsel.
Claude Muhayimana joined France at the end of the 1990s. An arrest warrant was issued against him by the Rwandan authorities in December 2011. A few months later, the Rouen Court of Appeal, where he resides, gave an opinion in favor of his extradition, before the Court of Cassation annuls this decision. This refusal was reiterated in 2014, following a favorable opinion from the Paris Court of Appeal. Its hearing was initially scheduled to be held in September 2020, but it has been postponed twice due to the Covid-19 pandemic.
Survivors and former killers
The accused, who appears free but was placed in pre-trial detention for a year in 2014, now works as a roadmender at the town hall of Rouen. Motionless during the long hours of hearing, arms and legs crossed in front of his lawyers, is Claude Muhayimana this "Ordinary man" that his defense described during the trial? "The crimes we have mentioned are extraordinary, said Aurélie Belliot. In a genocide, each link, each cog is important… He was an actor in the process of tracking down Tutsi. "
The two parties, however, recognized the fragility of the testimonies heard. Survivors of the massacres or former killers, around fifty witnesses took the stand. "They do not allow to contribute to the blossoming of the truth, pleaded Mr. Philippe Meilhac, one of the three lawyers of Claude Muhayimana. It is impossible to date some attacks because there are few details and ultimately very few matches. We settled in a blur, we don't see much. "
Read also
Article reserved for our subscribers

Since the genocide in 1994, between France and Rwanda, such a long diplomatic journey
Claude Muhayimana is difficult to pin down. Before his naturalization in 2010, he applied for asylum with the French Office for the Protection of Refugees and Stateless Persons (Ofpra). This had been refused because his career already included gray areas and false elements, such as the death of part of his family. He justified it at the bar by " A translation error ".
Even if he speaks French well today, Claude Muhayimana spoke in Kinyarwanda, the language commonly spoken in Rwanda, to deny all the accusations against him. "These accusing witnesses, they are trained to accuse", does he have hammered. The president sometimes seemed irritated by these denials, especially when the accused had to explain why the schedule of the French gendarmes supposed to investigate him in Rwanda had been found at his home with the list of witnesses they were to meet. After some hesitation, Claude Muhayimana admitted that he had mandated a Rwandan lawyer to contact witnesses in Kigali and offer them money.
Malaria crisis
The Franco-Rwandan has stuck to the version of events he initially presented, according to which he was not in Kibuye during the mass killings. He presented a certificate attesting that he was traveling to Ruhengeri, in northern Rwanda, between April 14 and 27, in order to transport the remains of a gendarme, killed during the fighting.
According to him, he could not be in the Kibuye area when the killings in the church (April 17, nearly 2,000 dead) and at Gatwaro Stadium (the next day, 11,400 dead) took place. , contrary to what some witnesses said. "But the authenticity of his mission order is questioned by the accountant of the guest-house", recalled Alexandre Kiabski, lawyer of the Collective of Civil Parties for Rwanda (CPCR), which tracks the alleged genocidal refugees on French territory and filed a complaint in June 2013 against Claude Muhayimana.
Read also
Article reserved for our subscribers

How French investigators track executioners and war criminals
The accused then said that after his return from Ruhengeri he stayed at home. "Without being able to drive" for almost two months, following a malaria attack. But this time he was contradicted by his ex-wife, who called him " liar " and of "Manipulator". "He left with militiamen in the morning and returned with them in the evening", she recalled, stressing however that she "Had never seen traces of blood on his clothes".
Claude Muyahimana's lawyers pleaded coercion, recalling that his ex-wife was a Tutsi and that he had "Maybe was forced to give minimum wages like driving Interahamwe" to save his life. They finally underlined that the accused is a member of the Rwandan National Congress (RNC), a party opposed to the regime of Paul Kagame, and that, as an opponent, he was the victim of persecution in Kigali.
Normalization of diplomatic relations
Two trials related to the Tutsi genocide have already been held in France: in 2014, the former presidential guard officer Pascal Simbikangwa was sentenced to twenty-five years imprisonment, a sentence confirmed on appeal. Octavien Ngenzi and Tito Barahira, former mayors in eastern Rwanda, were sentenced to life imprisonment and their sentences were confirmed on appeal.
Sosthène Munyemana, prosecuted since 1995 and today a geriatrician in Villeneuve-sur-Lot, will have to respond to justice before the assizes, the investigating chamber of the court of appeal having confirmed, Wednesday, December 15, his order of placing in charge. Other hearings are scheduled before his, including that of the former prefect Laurent Bucyibaruta in May 2022.
Read also
Article reserved for our subscribers

In Kigali, Emmanuel Macron hopes for the "gift" of forgiveness from genocide survivors
During his visit to Rwanda in May, as part of a normalization of diplomatic relations between the two countries after years of tension because of the role played by France in 1994, Emmanuel Macron was committed "That no person suspected of crimes of genocide can escape the work of judges".
"The role of driver is not an insignificant role, even if a killer will always have more responsibilities than a simple driver", recalled Alexandre Kiabski, lawyer of the CPCR. "Claude Muhayimana has always preserved his vehicle, added Matthieu Quinquis, lawyer for the International League against Racism and Anti-Semitism (Licra), also a civil party. It would have been enough for him to cut a hose or deflate a tire not to lead the militiamen and save even one life. "
The judgment is expected on Thursday, December 16.
We wish to say thanks to the writer of this article for this amazing web content

Rwanda: fifteen years in prison required against Claude Muhayimana for complicity in genocide