ATRESplayer PREMIUM
Premiere of the documentary 'Let's say I talk about Ronaldo'
Iñaki López is in charge of conducting the documentary Let's Talk About Ronaldo, which reviews the professional career of the remembered footballer and also focuses on his most personal facet of the player. Throughout three chapters, this condition begins in Ronaldo's sporting beginnings, to reach his international success with his arrival at Barcelona and, later, stop at his signing for Real Madrid, his time at Milan and his He fights against injuries and their subsequent retirement, until reaching the present moment, in which he is the owner of the Real Valladolid club.
10.45 / Telecinco and 14.00 / Movistar LaLiga
Double sporting event: motorcycling and football
Telecinco broadcasts the Tissot de Aragón Grand Prix live and open, an essential event for motorcycling fans. From 10.45, the chain will offer Moto 3 and Moto 2 races. At the end, it will include an interview with the great Spanish champion Marc Márquez, prior to the Moto GP race, which will begin at 2:00 p.m. On the other hand, soccer fans today have four games broadcast by Movistar LaLiga: Espanyol-Atlético de Madrid (14.00), Osasuna-Valencia (16.15), Cádiz-Real Sociedad (18.30) and Real Madrid-Celta Vigo (21.00) .
12.00 / The 2
The health of 'Knowing how to live' returns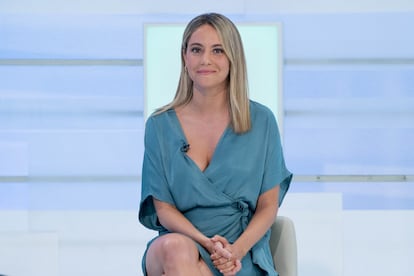 RTVE's historic health and wellness program returns with new programs and the same vocation of public service. In this new season, with Miriam Moreno as presenter, it incorporates as collaborators the dietician and nutritionist Roberto Vidal and the nutritionist and pharmacist Elisa Escorihuela. On the other hand, the program will gather sections that will help to better understand the list of ingredients of the products to make a healthier purchase or to find the healthiest versions of seasonal food groups.
13.35 / Hollywood
'Ice Age 3: Dawn of the Dinosaurs'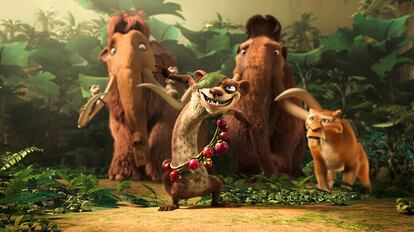 USA, 2009 (94 minutes). Director: Carlos Saldanha.
The third installment of the franchise Ice Age He shows off an extraordinary technical invoice and accumulates adventures for the little ones. Although it does not reach the narrative and visual power of the first, it contains a memorable success, the firmly comic character of the one-eyed weasel, who recalls none other than Captain Ahab from Moby Dick.
15.40 / TCM
'The night of the hunter'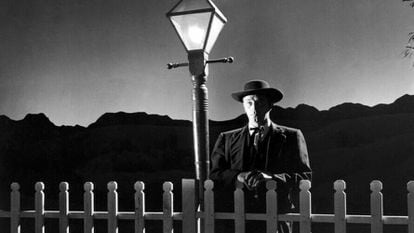 EE UU, 1955 (90 minutos). Director: Charles Laughton. Intérpretes: Robert Mitchum, Shelley Winters, Lillian Gish.
Actor Charles Laughton directed only this film. No more was needed. Laughton created the most wicked fairy tale in movie history. Robert Mitchum has the word "love" in English tattooed on his right hand; on the left, "hate." And he exhibits a look that frightens more than hundreds of cinematic monsters, turned into the pure incarnation of evil. James Agee's immaculate script becomes an astonishing album of terrible images, illuminated by a staging of classic breath.
20.30 / TNT
'Hancock'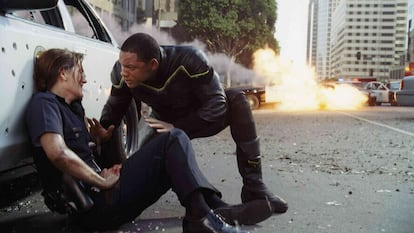 USA, 2008 (88 minutes). Director: Peter Berg. Cast: Will Smith, Charlize Theron, Jason Bateman.
The figure of Michael Mann as a producer is behind this honest entertainment product. Will Smith takes on the role of a drunken and asocial superhero. The thing runs out of steam towards the middle of the footage, but accumulates effectively shot sequences and Smith's acting savvy is always exhilarating.
21.30 / Movistar Cine Ñ
'The Pan's Labyrinth'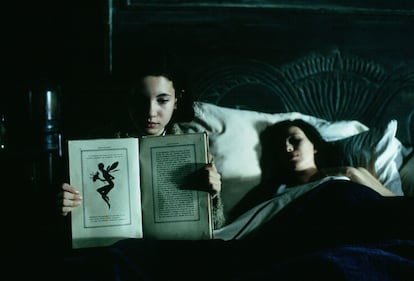 Spain-Mexico, 2006 (112 minutes). Director: Guillermo del Toro. Interpreters: Sergi López, Maribel Verdú, Ivana Baquero.
After the surprising tone of spooky western that he adopted The Devil's backbone, Guillermo del Toro approaches the interior of the Civil War again. The Pan's Labyrinth travels to rural Spain in 1944 to shape an evil tale centered on a girl who is faced with imagined and true terrors: a mysterious faun found in ruins and a heartless and vile captain who stands as a paradigm of evil. In this way, fantasy and reality will walk embraced in a visual feast that unravels both social keys and dream havens.
21.30 / DMAX
Portrait of border agents work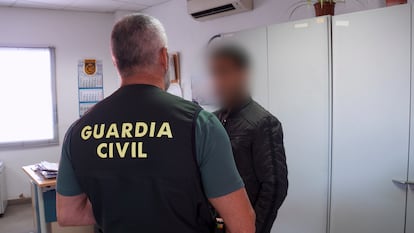 One more week, the documentary series CBorder control: Spain it approaches the daily work of the agents who guard the Spanish border points. Among other complicated and shocking cases, spectators will witness how a controlled delivery of a cocaine shipment that arrives in Barcelona hidden in a garment of women's clothing is organized in order to identify the recipient of the merchandise.
22.00 / Movistar Action
'Ocean's Eleven'
USA, 2001 (116 minutes). Director: Steven Soderbergh. Cast: George Clooney, Brad Pitt, Julia Roberts, Matt Damon.
Steven Soderbergh remakes an old Lewis Milestone film, The gang of eleven, supported by a large and excellent cast, to immerse himself in the robbery of a casino that accumulates enormous security measures. And it achieves, in addition to a solid and impressive film, with a devilish rhythm, a remarkable exercise in style.
22.00 / #0
'La La Land'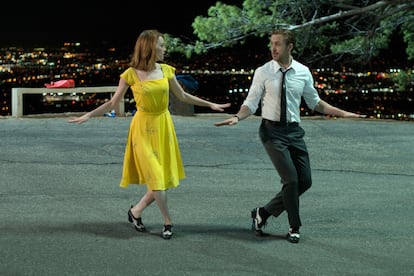 USA, 2016 (130 minutes). Director: Damien Chazelle. Cast: Ryan Gosling, Emma Stone, Rosemarie De Witt.
It took a lot of audacity to dare to recreate the old musical cinema in the middle of 2016. Damien Chazelle took the risk and borrows both the visual modes and the spirit of the classic films, and transforms a story with an almost basic plot framework into a masterpiece thanks to a punctilious staging, attentive and, above all, affectionate with his images. Almost in the manner of Borges's Pierre Menard, never has a tracing looked so modern.
22.00 / Antenna 3
Appointment with the Turkish series 'Infiel' and 'My daughter'
The Turkish series Unfaithful, released last Sunday, this installment abounds in different conflicts for its characters. Asya will discover that she was betrayed by her husband and his friends and will decide to face everyone. On the other hand, Ali's concerns about going to soccer camp with her father will affect the protagonist's decision. At the end of the episode of Unfaithful a new dimension will arrive with My daughter, that will tell how Hüseyin once again hinders the relationship between Uğur and Sevgi.
You can follow EL PAÍS TELEVISIÓN on Twitter or sign up here to receive our weekly newsletter.
Many Thanks To The following Website For This Valuable Content.
What to watch on TV today? Sunday, September 12, 2021 | TV