The Welsh actor, invited to the Monte Carlo International Film Festival, talks to Wayne Rigsby's SensaCine, about Hollywood's obsession with beauty and his desire to get behind the scenes in the procedural success of CBS. The fourth season of crime fiction lands in Spain on October 4 at the hands of La Sexta, while TNT will premiere it a day later.
We have seen Owain Yeoman (Chepstow, Wales, 1978) suffer like a dog in the third season of 'The Mentalist', one of the procedural stars of CBS that La Sexta broadcasts in Spain. His ex-girlfriend Grace Van Pelt (Amanda Righetti) was teased by an FBI agent named Craigh O'Laughlin (Eric Winter), and they even got engaged before the CBI team discovered he was a Red John mole. Yeoman He was one of the guests at the Monte Carlo International Television Festival, where SensaCine asked him exclusively about Wayne Rigsby, his character, and also about the television industry, the obsession with beauty in the United States and even the rumors that placed as the protagonist in the series that FX prepares for the comic 'Powers'. For now, he has confirmed that in the delivery that will begin in September -or in the fifth at the latest- he will go behind the cameras following in the footsteps of his co-star Simon Baker … And he has also written a pilot. The fourth season of 'El Mentalista' will land in Spain on October 4 at 10:25 p.m. by La Sexta, while TNT will premiere it a day later, on Wednesday 5 at 10:15 p.m.
Do you have ambitions to direct any of the episodes of the fourth season?
Of course yes. Simon (Baker) He did it in one of this season because the bug bit him a lot and, although it is a job of many hours, it was a great experience for him to experience the character from another point of view. So of course I would like to get behind the scenes. I write a lot, for example the pilot of a series, and the only thing I am waiting for is the moment.
What is the pilot about?
It's a bittersweet comedy about a guy who works in a London bank. It's more or less based on my own experience, because before I became an actor I also worked in a bank in Canary Wharf. I have enough ambition and I think that 'The Mentalist'is a good way to start playing styles in the world of directing. I'm surrounded by a team that pampers me a lot, by people who love me, and so everything is easier and you have less pressure than if you do it in a new series.
But if he did, he would act and direct in the same episode …
Yes, and that is precisely what represents a challenge, right? Simon said one of the hardest things about getting behind the scenes was properly judging his performance. It's something I wouldn't mind doing and it sure happens in season five if it doesn't happen in season four.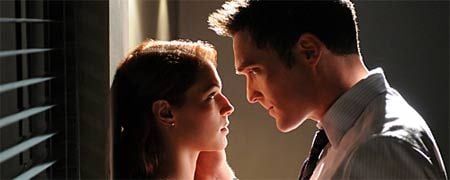 Owain Yeoman and Amanda Righetti in a scene from 'The Mentalist'.
He has written a kind of bittersweet comedy and 'The Mentalist'Drink a bit of that genre despite being considered procedural …
Effectively. To be honest, I think it's a bit of the reason why people keep watching the show. This can be seen especially in the character of Simon. Patrick Jane is quite humorous, very light and somewhat frivolous. It is very interesting because it represents situations that we would like to star in our real life and that we cannot do. My character may not be so exaggerated, but he also has several facets: his colleague with Cho (Tim Kang) and also that emotional profile that he brings out with the character of Amanda Righetti (Van Pelt). Just this last season has been very hard for Rigsby because she was dating the character of Eric Winter (Craigh O'Laughlin) and I had to pretend it was okay with me.
Do you think the success of 'The Mentalist'is it explained by other reasons?
Some may see it as a limitation, but the series gains integers for belonging to an open chain and not a cable one. Obviously, the latter are allowed to be darker and more explicit … I like titles like 'Californication', but here we can't do that kind of series because when you talk to everyone you have to do something much more familiar. 'The Mentalist'has a bit of that: it is a series that children and adults can watch and which in turn has various reading levels.
Can't it also be that 'The Mentalist'has recovered the tone of series of the past very loved by the viewers?
Exactly. I always say that it looks a lot like 'Colombo' and 'A crime has been written'. They are series that I would call a simple formula and that do not resemble the problematic ones like 'Lost' at all. After all, television is entertainment. There are times that I think that in the last few years it has become too difficult to see. You have to follow a series for six or seven years and if you have not seen a chapter you miss transcendental elements of the plot. The good of 'The Mentalist'is that you have linear stories, yes, but you can also watch an episode from time to time and feel trapped by its police plot. People always tell me that the good thing we have is our lightness. That you tune in for an hour with us and you know that during those 60 minutes you are not going to do anything other than entertain yourself. It is fun and it is a way of escaping our worries.
You were born in Wales but you use an American accent on the show. Was it difficult to get that change?
(Laughs) At first yes, you know? We always make a lot of jokes with the English and the American outside the cameras. My character was going to be called something else and in the end they changed his name because it sounded too British. Rigsby, the definitive one, I think is named after the character of a sitcom from the 60s. And the truth is that in the series we have everything: an Australian guy playing the main role, the Welshman, the Korean and two Americans to compensate and so that the American public is not offended. I always joke that they hired us like that because they thought it was cheaper (laughs). It's a joke, but imagine it: "A Welshman and a Korean? They sure only ask for coffee for work" (laughs).
And what accent does he use outside of the series?
Both Simon and I use our native accents off-camera. Hugh Laurie, for example, stays in the American all the time. In the end it is like one more language. I've been living in the United States for eight years and I know perfectly well that I still don't have a perfect accent. For that you have an assistant who always reminds you and says: "A little too much Welsh, don't you think?" (Laughs) This is the first time I've done a series and I don't have a language coach and you find it flattering when someone tells you they didn't know you were British. It is like a sign that I am improving little by little.
And couldn't Rigsby have been English?
Simon and Bruno Heller talked about this topic and in the end they chose to give us all the American passport. If not, you had to explain too much. How do you make it credible that a Welshman works for an elite organization that works in California arresting criminals? It wouldn't have made sense because we would have had to explain too much. In the end, the important thing is that the character is brilliant and it does not matter what nationality he is. And the same goes for the actor.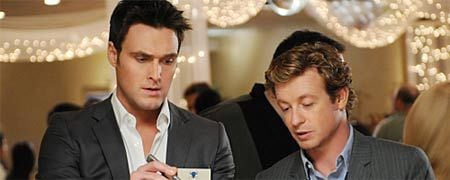 Owain Yeoman with Simon Baker in a scene from 'The Mentalist'.
Has any limit been set to succeed in Hollywood?
(He ponders it for a moment and makes an interesting face). I do not know. Five years? (Laughs) The acting world is a very volatile business. I studied at the Royal Academy in London, although I never thought of dedicating myself to acting in a professional way and my first audition was for 'Troya'. I was lucky enough to be hired for the role of Lisandro and I was already quite happy with it. In a way it was positive to go through a lot of auditions since I arrived because I was a bit innocent and that prepared me for what came next. I've never thought, "Okay, this is my seven-year plan." I choose a job because I like it and not because it will benefit my fame or something like that.
Speaking of the difference between Americans and British … Do you now suffer from that Yankee obsession that demands to always be perfect? This season they put an opponent to compete for the love of Van Pelt, Eric Winter, and came from the world of fashion. Did you ever think: "This guy is going to like me more than me and now my character is going to lose weight in the plots"?
Are you saying I'm not attractive enough? (Laughs) I understand what you are saying because in almost all American series an image of almost illusory beauty is projected. But there are a lot of great performers who don't have a nice image, or at least they're not great looking. And I'm talking about men and women who are protagonists in their series. I know that pressure because I am married to an actress (the British Lucy Davis, star of the British 'The Office'), but I do not think it is decisive. And about Eric … He wasn't worried because he knew he would be killed at the end of the season (laughs).
Do you think American television is obsessed with beauty?
A quality series is a quality series and it doesn't matter if you are handsome or not. A good actor is a good actor and there is no discussion. When I see a movie or a fictional product I don't think: "Wow, he's gorgeous." What I think is: "How well he does it." I still think that television is escapism, seeing characters that we would like to be. Superman, all superheroes and other kinds of roles are elements that awaken our fantasies. They are like the best version of ourselves. Sex sells. No one can deny it. Still, I am convinced that physical appearance is secondary. I'd like them to think of me as a good actor before they notice that I have defined abs.
Well, the freaks of the comics see the muscular playing Christian Walker, the protagonist of the series that FX prepares on the graphic novel of the same name …
I would have loved it, although I think Kyle Chandler is better positioned. I am a huge fan of the world of comics and physically I would be prepared. The problem is that I still have a contract with 'The Mentalist'.
Wouldn't you like to end up being the star of your own series?
We all dream about it, but for now I'm still happy where I am. He would have paid to play Superman, although in the end they gave it to Henry Cavill. Now I have heard that they are working on the Captain Marvel movie and they have no protagonist. I'd like to wear your suit. If I am asked to do something like that when I am not contractually bound, I will be sure to say yes.
Santiago Gimeno
Many Thanks To The following Website For This Valuable Content.
'The Mentalist' Owain Yeoman: "Television has become too difficult to watch" – Series News