The battle between Mercedes and Red Bull continues. Both on and off the track.
Now Red Bulls team manager Christian Horner sends a clear pass to Mercedes Toto Wolff.
– I do not need to kiss his ass or anything like that.
On the track, the reigning champion Lewis Hamilton fights against World Cup leader Max Verstappen. There are two races left and for the first time in many, many years it is not only a battle between two drivers but also a battle between two teams.
Next to that, the next fight is going on, between Mercedes team manager Toto Wolff and Red Bulls team manager Christian Horner.
– I believe that relationships and respect are two very different things, says Christian Horner during a press conference in connection with last weekend's competition in Qatar.
– Of course we have a great respect for everything that Mercedes has done and everything that Lewis Hamilton has achieved, but I do not have to have dinner with Toto. I do not need to kiss his ass or anything.
Word war between Mercedes and Red Bull
He continues:
– There is no relationship. We push for everything we can and we have worked hard to be in this position. This is the first time they are being challenged and it is exciting to see how people react when they are put under pressure and are challenged, says Horner.
– This is by far the most intense and political title fight that we have been involved in during our time in the sport. Does our car follow the rules? Absolutely.
Toto Wolff also comments on the tight fight:
– When it comes to the battle between the teams, there are many fantastic people who work at Red Bull and obviously many fantastic people who work for Mercedes. It's a damn fight, says the Austrian.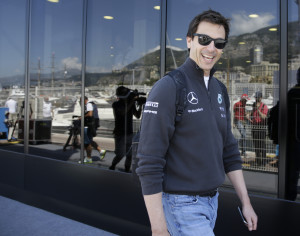 – There is of course a respect for Red Bull and the capacity of their team he. It is clear that this is tough. This is a World Cup in the highest category in motorsport and what started as Olympic boxing turned into professional boxing, but now the fight has developed into MMA. It is okay. We are in the ring and trying to do the very best job we can. The rules allow us to use the elbows and now we have thrown away the gloves. We should not expect anything else.
Right now there is a difference of eight points between Verstappen and Hamilton in the battle for the World Cup title, in the constructors 'championship there is a difference of five points in Mercedes' favor. We have a little more than a week's break before the fight continues in Saudi Arabia, even on a course that F1 has never competed on before.
News Formula 1
Expect new technical directives regarding the rear wing already in December. The FIA ​​carried out an inspection in Qatar and has announced that new ones will be added directly to the existing rule. It's something that happens from time to time, when there is a clear rule, but the teams find a loophole that allows them to stay within the rule, but still go beyond what the rule aims at and would actually regulate.
Mercedes did a simulation for Qatar, but it did not match. Mercedes has no idea how Lewis Hamilton could be so much faster than Max Verstappen. Their own analysis is that it is Lewis Hamilton who is the difference.
You can see Mercedes analysis after the race here.
Aston Martin recruits Mercedes aerodynamics manager Eric Blandin. One of Aston Martin's employees confirms the transition for motorsport totals and says that it is not clear when Blandin will start his new job. He is expected to have a transition period, so a tip is that he will start at Aston Martin sometime next autumn.
Rober Kubica stays with Alfa Romeo also 2022. So does the title sponsor, PKN Orlen.
All drivers until 2022 can be found here.
Race of Champions attracts several F1 drivers this year. You can read more about it here.
We wish to thank the writer of this short article for this outstanding material

Mercedes and Red Bull in a new war of words before the decision