More school and less chess – that was what Vincent Keymer had actually planned for the turn of the year. "I've played a lot of tournaments since June. That's why I haven't been to school that often and I've missed a lot," says the 17-year-old. But the plan to concentrate exclusively on the Abitur is now nothing. A few weeks ago, the student won a place in the Grand Prix series of the World Chess Federation, a qualifying tournament for the next World Chess Championship. It starts in February. Fortunately, the written Abitur exams were already through in January, said Keymer in an interview with DW. "I will prepare for the tournaments as best I can despite the school."
Almost always the youngest
Vincent Keymer (advanced courses in mathematics, English, German) is the first German in almost 50 years who could come close to a world championship fight. It is unlikely that this will work as soon as next year. Because in the Grand Prix series, which is held in Berlin and Belgrade, he has to compete against 23 world-class players. Only two of you will ultimately qualify for the Candidates Tournament, in which the next challenger will be determined by World Champion subscription title holder Magnus Carlsen.
Keymer is by far the youngest in the Grand Prix. "I'm not yet at the top of the world," he says. In this way, the self-confident and level-headed student assesses his current position realistically. "You have to realize that only a few players even make it into a candidate tournament for the World Cup at any time."
Controlled offensive
Keymer now also impresses against top players with well-balanced offensive chess. And when things get complicated in the end, he usually keeps track of things. At the "Grand Swiss" elite tournament in Riga in November, things went particularly well for Keymer. So good that not only did a sensational fifth place and a bonus of around 15,000 dollars jump out, but also continued participation in the World Cup qualification. Nevertheless: The best German chess player is currently in the world rankings in 74th place and thus still a bit below the absolute top: "There are a lot of strong players in this age group internationally," says the top coach Rustam Kasimjanov, who lives in Germany: "It is not yet clear who will make it into the top ten."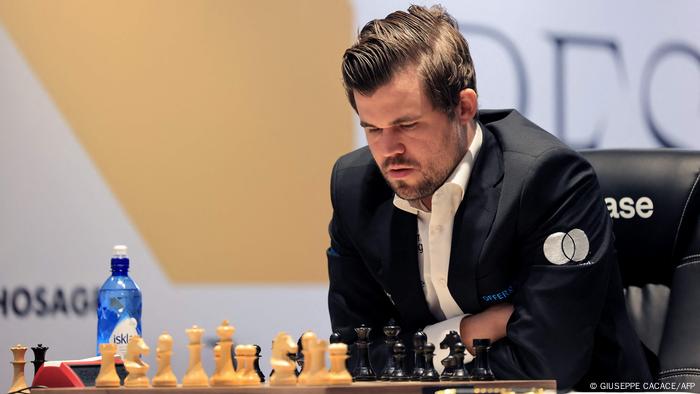 One size too big in 2019: World Champion Magnus Carlsen (Norway)
In any case, Keymer has a good chance of making it to the top. At the age of ten he already defeated the first grandmaster. At the age of 14 he achieved this title himself. At this young age no German had succeeded before him. And when he competed against Magnus Carlsen for the first time in Easter 2019, the two wrestled with each other for over six hours – until the world champion narrowly prevailed.
Corona used for training
The turning point came in March 2020: the sport of chess also went into lockdown. For the high school student from the small wine town of Saulheim near Mainz (Rhineland-Palatinate), fast online chess and a lot of training were particularly popular. Rather a stopgap solution: "I think that the game with a long period of time is what makes chess," says the exceptional talent, "that's why I was also happy when the live tournaments started again."
It quickly became apparent in 2021 that he made good use of the compulsory Corona break. The young German star improved from tournament to tournament. After finishing second at the European Championships in Iceland at the latest, it was clear in the chess scene: Keymer had made a big leap in performance. He cannot say exactly why he has improved so much recently: "It was definitely good for me to play the many tournaments in one go," explains Keymer, who was run by a former World Cup finalist, the Hungarian Peter Leko, is trained: "I was pretty deep into the subject and was able to deal with it intensively."
Search for sponsors
What's going to happen for Keymer after graduating from high school is already certain: The 17-year-old wants to concentrate fully on playing chess. "As long as you go to school, you can't look at it as a professional sport. It will be different after graduation." "We are still looking for another sponsor," reports Keymer, who has previously been supported by a listed leasing company and the German Chess Federation. "It is important that you earn money at some point, that is clear," said the prospective high school graduate, "but at the moment my training on the chessboard is still the focus."
We wish to say thanks to the author of this short article for this awesome content

Adventure chess professional: Vincent Keymer on his way to the top | DW | 01/02/2022