ReportageWednesday, December 1, faced with the advance of the epidemic in Alsace, the white plan was triggered, reviving here the memory of March 2020, when the disease had affected the region violently before the rest of the country.
"Me, it makes me a mess there", lets go the tall 61-year-old guy, who accompanies his words with a gesture towards his stomach, before showing the patient lying in the bed behind him. On the bedroom door, a red "Covid +" magnet is hung. Doctor Christopher Schlier, anesthesiologist-resuscitator, strides towards the window from which we see a 37-year-old patient, inert, clad in pipes. "Young, without comorbidity, without history, he is muscular, he is not obese, look, insists the German doctor, at Colmar hospital since 2005. We have three young patients like that, who are not vaccinated. They decompensated in forty-eight hours! "
"We're all angry", he repeats, about these unvaccinated patients, who represent almost all – fourteen out of sixteen – admitted to the intensive care units of the hospital center. For him as for his colleagues, these are avoidable hospitalizations, the promise of after-effects on discharge, places taken for other patients, tragedies for families. Still. "It's hard, sometimes, to find meaning"said another resuscitator.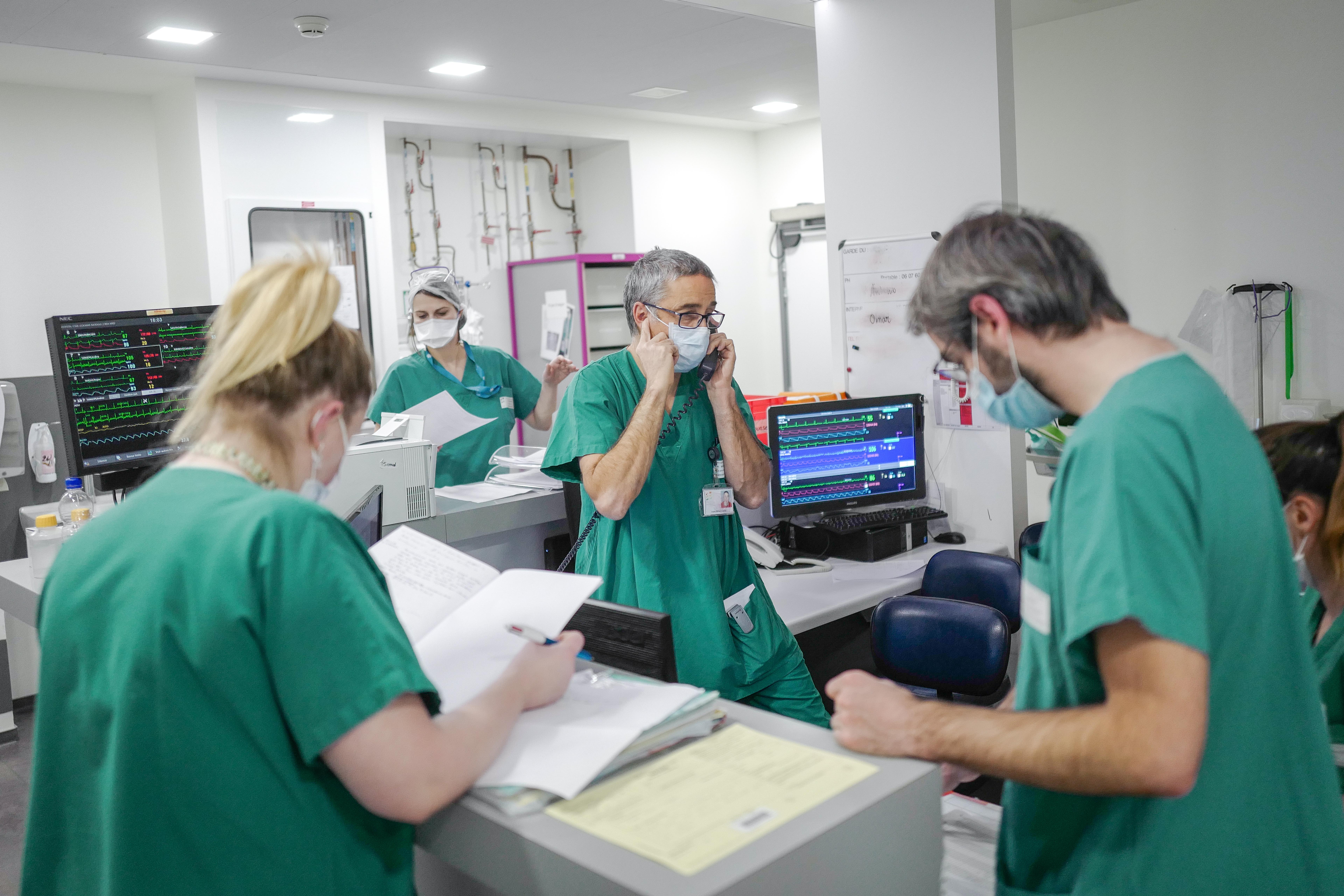 In the civilian hospitals of Colmar, the fifth wave is no longer in doubt. The Alsatians of Haut-Rhin, at the forefront of the outbreak of the epidemic in March 2020, when the country still refused to see the extent of the crisis, are again in the "Spiral", say the caregivers. If the figures have for the moment nothing to do with the first wave whose violence is still in everyone's mind, things are accelerating in the hospital, while the viral circulation has exploded in the department since the beginning of November.
Caregivers are "fed up"
Triggering of the white plan in the hospital Wednesday 1is December, passage from twenty to thirty beds in the Covid-19 hospitalization unit, crisis unit to prepare for the continuation of the increase in load… The flow of patients is gradual, sometimes irregular, but it continues to rise. In intensive care, the day is calm, Thursday, December 2, but the night has been busy, with four patients admitted in quick succession. One died as soon as he arrived. 62 years old. Not vaccinated.
Read also
Covid-19: EU must "think" about compulsory vaccination, says Ursula von der Leyen
Behind Doctor Schlier, who examines the patient files, leaning on the care station, a nurse answers the microphone of France 3, and still talks about the vaccine. "They ruin their lives when they are offered solutions to get out of it", "We're fed up", "We are exhausting the entire health system, we have the impression of going back two years", continues Pauline Kammerer.
You have 76.19% of this article to read. The rest is for subscribers only.
We wish to thank the writer of this post for this amazing content

At Colmar hospital, a wave of non-vaccinated against Covid-19