The new always comes! Time to meet new artists who are doing very well in soul and jazz.
A lot of people ask me what I'm listening to now, what's new, or say there's nothing worthwhile new. I decided to write today's column mainly to contradict the last statement. They do have and as they have, a lot of good stuff, to show you a little bit of what I've been listening to, here's a small collection of very cool sounds in soul and jazz released recently.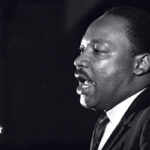 Jazz is Dead
I've already started this list with a seven-disc collection so you can see I'm not kidding. Ali Shaheed Muhammad e Adrian Younge, multi instrumentalists and producers linked mainly to Hip Hop, got together in 2017 to produce a series of shows with some jazz legends. The shows became records, released in 2020, making Jazz is Dead a stamp. I recommend all of them, but I highlight some songs, they are: Conexão, in partnership with John Donato; the psychedelic jazz of Apocalyptic, with the genius Azymuth; That's what I know, with Marcos Valle,  Lions Walk, com Doug Carn and Distant Mode, with Gary Bartz. The Brazilians absolutely rocked and if I had to choose just one, it would be Azymuth. The irony in the name is, of course, purposeful, Jazz isn't even close to being dead and Jazz is Dead (1-7) are there to prove it.
Mulatu Astake & Black Jesus
In partnership with the collective Black Jesus Experience, formed by singers, rappers and jazz musicians from Morocco, Australia, Zimbabwe and Ethiopia, the veteran multi-instrumentalist and composer released the album To Know Without Knowing, in 2020, on Agogo Records. The album, fluctuating in a good way between the old and the modern, grooved, has the ethio jazz touch typical of Mulatu, but that's not all. The vocals, in addition to being beautiful, are mesmerizing and the album is seasoned with rock, funk and hip hop in a delicious alchemy.
Count Favela Sextet
The album Themes for Times of War, released in 2020, it emerged in response to the death of a family shot 80 times by the army in Rio de Janeiro. The sextet was born in the ABC Paulista and, influenced by bebop, hardbop and freejazz, they move between samba jazz, spiritual jazz, improvisation and the erudite with creativity, rebellion and a lot of beauty. Formed by Alex Days (low), Diego Estevam (guitar), Mabu Reis (trombone), Harlem Birth (sax tenor), Rafael Cab (drums), Edson One (trumpet), the band recently released, on the Sesc platform, the performance video Jazz Pra Que? With reflections on jazz, its origins, legacy and, of course, excerpts from the new album.
I'm a big fan of Conde Favela, after 11 years of career, the release of Temas para Tempos de Guerra is one of the best current albums and comes to establish them once and for all on this road.
Nubya garcia
After two successful EPs (Nubya's 5ive, in 2017 and When We Are, 2018), the saxophonist and composer finally released, in 2020 the album Source and it's beautiful: it lives up to the title and mixes everything very well, in a delicious sauce of cumbia, dub, jazz, soul and electronic . Nubya's sax is the balance of the entire record.
Among the musicians who collaborate are Joe Armon Jones, keyboardist of Ezra Collective, who released the debut album You Can't Steal My Joy in 2019) and the trumpeter Sheyla Maurice Gray , band leader Kokoroko and member of the septet Nérija, collective formed mainly by women, which also released an album, in 2019, Blume, by Domino Records, with beautiful melodies marked by metals, I indicate a lot, I loved this album.
Bufo Borealis
Horizontal pupils, the debut album of Bufo Borealis, formed by Rodrigo Saldanha (Invisible Friends) and Juninho Sangiorgio (Ratos de Porão), released in May 2020, it's surprising, the punk that comes in the musicians' baggage sets the tone for this great jazz record, full of cool participations like Edgard Scandurra (Ira!), Rodrigo Carneiro (Mickey Junkies), Roger Martins (Hurtmold) e Fernanda Lira (Crypta), among others.
Jazz has always been present on the duo's record players, who cooked up the idea and the desire to put into practice an album in the style for years, edited, recorded, conceived everything themselves, the result of this enthusiasm and involvement is noticeable on the record. Punk and Jazz have their similarities, not in the melody, but in the posture, the search for freedom, the mix is ​​nothing new and I think it all starts back in the 1960s with Ornette Colleman entering the studio with other musicians and coming out with a revolutionary piece by 37 minutes, but that's a subject for another text. Bufo Borealis is punk, it's jazz and it's very good.
Archie Shepp
The legendary saxophonist teams up with his nephew Jason Moore, better known as Raw Poetic on vocals, Damu The Fudgemunk drums and vibraphones, contributors of completely different sensibilities and stories, result in a delicious hip hop jazz album. Shepp, one of the pioneers of Free Jazz, now 84 years old, says that performing this project alongside these young musicians is absolutely wonderful in itself. Not only that, the 66-minute disc is still vigorous, with raw improvisations in a smooth mix, where you can feel the signature of each artist naturally, the respect and admiration for the master is remarkable, some tracks are called Professor Shepp's Agenda and they are pure free jazz delight.
Dynamite Combo
I challenge you to put the sound of the new single released by the band from Curitiba and be able to stay seated. Keep away the furniture that Danger Zone, masterfully produced by DJ Hum, it's a total breaker. In 2019, the band released the single Blow Thy Horns/Life is Hard with their own compositions, now in 2021, Danger Zone, letter of Willie Dinamite, who also does the band's vocals and composition in partnership with Dj Hum, has as its main theme the pandemic that we are unfortunately experiencing. The sextet composed of Caetano Zagonel (low), Anderson Limax (guiyarra), Menander Souza (Trumpet), Rodrigo Nickel (sax), Yuri Vasselai (battery), and Willie Dinamite already mentioned, makes a soul of respect, just released the single and we already want an entire album yes!
Dr Loonie Smith
Finally, I write these words with a mixture of sadness and joy. Sadness for the recent death of this master of groove, joy that he left us this last gift. And what a gift! The acclaimed organist's third album Breathe on Blue Note Records combines live and studio tracks, opens and closes with the participation of Iggy Pop no vocal dos covers do hit soul de Timmy Thomas, Why Can´t We Live Togheter (1972) e o de Donovan , Sunshine Superman (1966).
The album was carefully produced by the president of Blue Note, Don Was and also features some songs recorded during Smith's 75th birthday celebration in 2017, the same week he entered the studio for the acclaimed album All in My Mind.
Breathe is beautiful, I heard moved by the dynamism of this wizard from Hammond B3, especially in Bright Eyes, a composition by Smith that became known as George Benson and here it's a very elegant mix of jazz and soul; I also highlight Epistrophy, composed by Thelonious Monk e Kenny Clarke in 1941, performed on this album in an incredible funky outfit. Between regret and thanks for such a wonderful work, listen Dr Lonnie Smith in the last volume. Good trip.
I could write several more lines about each of the above quotes and also indicate a lot more great stuff coming out this year, or coming out recently. There is a lot more: Kamasi Washington launched Sun Kissed Child; Amaro Freitas with the beautiful and improved Sankofa; William Parker with the intense Mayan Space Station, ou o delicioso Take Root Among The Stars, do Roots Magic that came out in 2020, and so on…
It was kind of difficult to choose just a few, but the choices I made were thought out with great care, some by jazz as a lifestyle, blood, sweat, tears and a lot of love for music, especially here in Brazil, especially now, in front of a government that discourages any art form, to say the least.
Save whoever makes the music happen, whoever keeps jazz and soul alive and look, from the list above, they're more alive than ever.
We want to say thanks to the author of this article for this outstanding web content

We've selected new artists who are renewing soul and jazz.