We chatted with Fabio Santanna aka Live Motel about his new album, Funk-se

By Maria Angelica Parmigiani
In the art of sonic composition, it can be said that Fabio Santanna is a true alchemist. Breaking the paradigms of time and space, the artist from Rio de Janeiro makes plural musicality with a fluidity that surprises. The so-called born musician: multi-instrumentalist, DJ, producer, creator of the Live Motel and part of the duo Not Azeite alongside Bernardo Campos, he now takes on the scolding to become the founder and label head of Na Nave Records.
With a noble purpose, the label comes up with mottos like aggregating, representing, including and expanding. Working the Brazilian musical wealth within the electronic sphere, but breaking standards and being a gateway for black artists who aspire to the dream of prospering within an artistic career in Brazil. To open the work, Fabio delivers Funk himself as an answer to what he proposes in this new venture. A light mix between Funk, Boogie, Nu Disco, Afro and influences from Herbie Hancock, Lincoln Olivetti e Black Rio. We exchanged an idea with him to find out more, come see:
MNS: Hi Fabio, how are you? Well, you are from Rio de Janeiro and your land is considered a fertile soil for art and also for giving a special touch to electronic music. All this fertility influenced you in what respect? What are your bases?
Fabio Santanna: We are bravely resisting at the moment, always planting! I appreciate being able to exchange this idea with you, I'm a fan. I'm a guy from the outskirts of Rio de Janeiro, I migrated to the south zone at an early age with my mother, looking for a better life, but I've always kept this periphery/south zone bridge, dance, beach, samba, funk, that made me a guy urban, from the street, from conversation, from exchange, it broadened my gaze, my taste. My basis was to learn by doing, studying here and there, wherever I could, taking advantage of every opportunity, adding these experiences.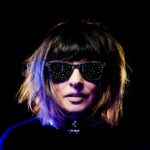 Your tracks follow the lines of Funk, Disco, Soul, Boogie and Brazilians, right? Were these sounds present in your work from the beginning or did you naturally gravitate around them? What are the artists that inspired you to get where you are musically?
Look, I'm a lover of music, records, radios, dances, shows. My musical background is super eclectic, classical, rock, popular. my project Live Motel it is more in line with those references you mentioned, too short. There are many artists who inspired me and continue to inspire me, art is a living cell that constantly feeds me. But to name a few, Gil, Caetano, Bowie, Jorge Ben, Marvin Gaye, Daft Punk, Lincoln Olivetti, Stevie Wonder… there are many, lol.
There is a wealth of music in their productions at Live Motel. The elements and their references, melody, vocals, multi-instruments, all tied together. Do you compose, produce, arrange and have a broad musical portfolio, where does Fabio Santana draw so much creativity? What are your allied instruments?
The Live Motel is my playground, my amusement park. I created the project with this in mind, fun. In it I put my passion for synths, bass, guitars and inventing vocals. I am a guitarist by training and keyboardist by passion.
My curiosity: and why Live Motel?
Look, it's hard to explain (laughs). But in my head it started with those neon roadside motel logos and eighties synthwave aesthetic, I thought the words were good.
You have side projects too, right? Nu Azeite is a refined blend full of musicality between you and Bernardo Campos. How does the process of creating tracks in this working format work? What is the good part of being alone and being a duo and in your case, being able to have both facets?
I do have some side projects, I do soundtracks and various collabs, all in my studio "Na Nave", a space to give flow and make projects and ideas viable. "Nu Azeite" is a project that I have great affection, I love making music with my partner Bernardo fields, the guy is an ace, super generous and knows a lot about sound, we work very well together, we have a lot in common, the new album is almost over, it's great! Both parts have good things, in each of them I have fun and learn in different ways. Everything for me is aggregator!
Thinking about the "present", it is inevitable to think about the pandemic. For some, it was a boom in studio creativity, while for others it was a time to go through other layers of the profession… for you?
I literally live in a studio (laughs). Half of my house is a studio, so I was already there. It was a privilege to have this safe haven, music has always supported me, in the pandemic it was no different, I worked a lot.
Thinking about behavior: until the beginning of 2020 what was noticed was an effervescence in Dance Music in RJ, some collectives investing heavily in musical curatorship focused on sounds such as Disco Music. How do you see these aspects in the market? Is it a global trend? With so much baggage: what do you feel is coming?
Look, when we think and say market… it can be a lot. I've been living music since a very early age and I've followed several trends or things that people said are a trend, but in parallel to that, there were many things that fed, there are those with more focus on the artistic part, on the part of events, festivals. So for me, without demagoguery, the trend is what we've seen, music today has no limits, it all depends on how you're going to develop that idea, that product, we've reached a stage where a person can create their own trend, their own audience. The trend is endless.
I take the hook to ask about his newest album, Funk-se, which debuts the catalog of his new label, Na Nave Records. Tell us about this important step. I saw that you also want to be a base for black artists to be able to release, given the whiteness of the phonographic market.
Funk yourself is an invitation, without pointing fingers. But asking if we can't enlarge the look, the senses. Human beings are diverse by nature, people are different, tastes are different. There is a certain repetition that often leaves little room for other segments, other artists. Brazilian electronic music has huge potential, it has a diverse audience, but when we think mainly about the mainstream, we are limited, we repeat formulas, patterns… we have to have more diversity, that's where our potential lies, more women, more blacks, more periphery, more Brazil.
Any challenge that marked you in this aspect and was a motivational point for the birth of Na Nave?
My whole life. Being a black musician coming from the periphery is already a huge challenge. Only I know what it was like to have my first instrument, what I had to do, to prepare myself to get my first job. My entire trajectory was a search for a self sufficient to be able to exist as a citizen and as an artist. Mano Brown always speaks a phrase "the focus is the safe", we need resources, we need self-sufficiency and to be on top for our voice and our art to be heard.
And the album? A little bird told me that you were inspired by the works of Lincoln Olivetti, Black Rio and Herbie Hancock in an organic and electronic dance. Talk about him, what will we find in this collection?
Funk-if there are 7 tracks, I wanted to bring to a conversation electronic music with funk, soul, afro, Brazilianness, jazz. These great artists you named are pillars and masters in this conversation, I was inspired by them to send my chat. My vision of house, disco, funk, Nu disco…
Even without shows in much of the world, productions and releases took place in an expressive way. Do you have more news for 2020?
I have a few more releases until the end of the year, a nice remix with the "Processman" a super producer from Bahia who has a super cool job and has collaborated with artists like High school among others, and some surprise colabs.
I'm also supposed to do a concert to release the album in November, I don't know if I'll be able to count on some in-person audience, I hope so. Vaccine in the Arm and Funk Yourself!
We would like to give thanks to the writer of this article for this outstanding content

We talked to Fabio Santanna (Live Motel) about his Funk-se album