You can't fail to check out the music selection that we've lovingly set aside for you weekly. Releases are coming, a lot of music, but there are things we have to show you. It's "recording the tape" for those we love. Curumin e Nellê raised the level of Brazilian R&B. But there's so much more for you to check out, bookmark and follow. an insane interpretation of gang90, one afrobixo lo-fi good for dancing, music to enchant lovers, a great duet from Libra and French psychedelic industrial electro. Come on mine and enjoy!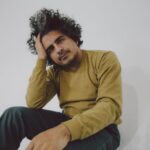 Highlight of the highlights – Curumin and Nellê
Purple rain! Whoever has new music in the square is Curumin with the participation of Nellê. The song has an exquisite production on the vocals, showing how Brazilian R&B can soar. Purples do have shades of Prince with glitter of Cassiano, added to (blue) pills of Barry White. The stuff is above, well above average.
the daily life of love
Andrezza Santos releases the clip of The Aquarius and the Crab. Love music talking about love for those who love, loved or still want to love. The clip shows the daily life of several couples in love, which is really nice to see. Love yourself by table seeing the clip. Or we get up from the couch to kiss whoever is next to us. Valley. Live!
Industrial Poptrônico
Jindoss, French, makes a dense mix of experimentation and industrial sounds in the new track Dancing. Dancer in a festival atmosphere, she both disturbs and cheers, which elevates her to the level of art that is worthwhile. And it will definitely catch electro fans too. I liked it a lot.
Monstrous
Libra is the reinvention of Zeh monster, who has been living in California for 6 years and from what I understand, still very well established there. In his project, he always joins the singer for some duets. LA Queen it's sensational and sexy and has a very interesting Brazilian soul feel. The current partner is Brenda carsey, who has worked with Wiz Khalifa e Backstreet Boys.
Hot very hot
Majur e Liniker bring sophistication and groove to Cidade Baixa in the music video for Queen of Hearts, very well done and hot, very hot. The partnership worked out well and the result is worth playing.
Good + Great = Perfect
This here is a roll. It could be in the Featured Feature post, but as I already gave this trophy to Tartamudo a few weeks ago I chose not to repeat. The duo from Minas programmed a kind of beat Metal on Metal, do Kraftwerk, and threw Edgar Scandurra e Taciana Barros, idols of Brazilian post punk, to experience in this reinterpretation of Invitation to Pleasure, of the no less iconic Gang90 & Absurdettes. It was very mass!
Afrobixo
There's a sound you know will hit like dynamite when it hits the ball. This is the case of Tá Vendo o Bixo, by Nick Amaro and DHN. Infallible beat and that pothead vocal that we love. The track has some afrobeat moments and the lo-fi school of carioca funk. What a blow!
We want to say thanks to the writer of this write-up for this awesome material

Curumin's Nova is the highlight of the week in our release guide