GOOD BOYS
Original title: Good Boys
Year: 2019
Duration: 95 minutes
Country: USA
Address: Gene Stupnitsky
Script: Lee Eisenberg y Gene Stupnitsky
Song: Lyle Workman
Photography: Jonathan Furmanski
Distribution: Jacob Tremblay, Keith L. Williams, Brady Noon, Molly Gordon, Midori Francis, Josh Caras, Lil Rel Howery, Millie Davis, Chance Hurstfield, Enid-Raye Adams, Lina Renna, Benita Ha, Ian Hawes, Maja Aro, Sean Quan , Vicky Lambert, Nevis Unipan, Esabella Anna Karena Strickland, Cody Davis, Craig Haas
Producer: Good Universe / Point Grey Pictures / Universal Pictures
Gender: Comedy
Synopsis: After being invited to their first "kissing party", three good friends accidentally destroy a drone they were forbidden to touch. To replace him, they skip class and make a series of wrong decisions, getting involved in a case involving drugs and the police. (FilmAffinity)
Anyone who knows me a little knows that I am not much of these American comedies about hypersexualized teenagers. But there is something in 'Good guys' That catches my attention and makes me laugh like I haven't laughed for a long time. A comedy that aspires to nothing and manages to surprise precisely because of it.
The story is that of three teenagers, at the height of a hormonal outbreak. It is a moment that every boy has passed. Obviously, without the exaggeration with which Gene Stupnitsky He shows us it, but even so his great potential is in seeing himself. That point of just naivety and debauchery captures it perfectly.
The film shines especially for its three main actors. Jacob Tremblay, Keith L. Williams and Brady Noon They are actors who could be said to have been born to play this role. All three take it seriously, so seriously that they are credible in roles that could be taken for parodies.
In the case of Tremblay We have already seen him move very successfully in the drama. But here he gives the level in comedy, a field that is often synonymous with failure for dramatic actors. Despite his youth, he continues to give acting lessons that establish him as a name to be reckoned with.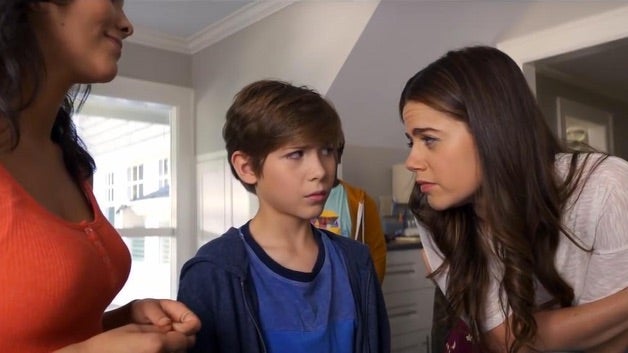 Less successful are his two party companions. Brady Noon it is the best of the two. While Keith L. Williams is more forced, Brady gives off naturalness. Vocal skills aside, he is another actor who will have to be tracked if his work here has continuity. Keith L. Williams I do not know if it will have continuity, but it is of the three the one that has the most child actor vices, especially the lack of naturalness that usually characterizes them.
No this 'Good guys' at the level of teenage tapes of the type 'Count on me' O 'The club of five'. But it is a good example of how the most typical American comedy can give an interesting movie from time to time. Of those films so measured and with all the jokes seen and magazines, here the surprise has its place. It is appreciated that they have presented us with such a material in such a fresh way as this.
But what works best with 'Good guys' is identification. Everyone, at least the kids, has been through this absurd phase of life. That point where you are too old for children's games and too young for children's games. A phase where you don't know where to fit in. A phase that gives rise to situations at the level of the ridiculous that the script of Lee Eisenberg and Gene Stupnitsky they capture perfectly. Because this does not stop being life.
'Good guys' it's a hilarious comedy that is well worth a shot. Three teenagers in that phase of life where sex bursts in and changes everything. A typically American comedy, but with a script that is not self-censoring.
The best: Jacob Tremblay, the identification with the story and that the script gives free rein to profanity and politically incorrect situations.
Worst: Keith L. Williams.

Many Thanks To The following Website For This Valuable Content.
'Good boys': you've been like them