The long-awaited presentation of the new smartphones Google, Pixel 6 and Pixel 6 Pro took place today. As Gadgets News already told, some of their characteristics were revealed back in August, and the main news was the Google Tensor processor installed in them (in addition to the Titan M2, which is responsible for security). Here's what the full specs look like:
Pixel 6
Pixel 6 Pro
Price
from $ 600
from $ 900
Dimensions, weight, protection
158.6 x 74.8 x 8.9mm, 207g, IP68
163.9 × 75.9 × 8.9mm, 210g, IP68
Display
6.4 ″ 1080 × 2400 (411 ppi), OLED, 1,000,000: 1, to 90 Гц, Gorilla Glass Victus
6.7 ″ 1440 × 3120 (512 ppi), LTPO OLED, 1,000,000: 1, 10-120 Гц, Gorilla Glass Victus
CPU
√ Google Tensor
√ Titan M2
√ Google Tensor
√ Titan M2
RAM
8 GB LPDDR5
12 GB LPDDR5
Flash memory
128/256 GB UFS 3.1
128/256/512 GB UFS 3.1
Main camera
√ 50 mps, 1 / 1.31 ″, 1.2 μ, ƒ / 1.85 (82 °)
√ 12 mps, 1.25 μ, ƒ / 2.2 (114 °)1
—
√ LDAF (Laser Autofocus)
√ 50 mps, 1 / 1.31 ″, 1.2 μ, ƒ / 1.85 (82 °)
√ 12 mps, 1.25 μ, ƒ / 2.2 (114 °)1
√ 48 mps, 1/2 ″, 0.8 μ, ƒ / 3.5 (4x optical zoom, 23.5 °)
√ LDAF (Laser Autofocus)
Front camera
8 mps, 1.12 μ, ƒ / 2.0 (84 °)
11.1 mps, 1.22 μ, ƒ / 2.2 (94 °)
Battery
4614 mAh (30 W, 50% in 30 minutes)
5003 mAh (30 W, 50% in 30 minutes)
The fingerprint scanner
built into display
built into display
Communication and stuff
5G, Wi-Fi 6E (802.11 ax), Bluetooth 5.2, NFC, USB Type-C 3.1
5G, Wi-Fi 6E (802.11 ax), Bluetooth 5.2, NFC, USB Type-C 3.1
OS
Android 12
Android 12
1 in the photo (see the last one) – 106.5 °
The CPU of the Google Tensor processor contains 2 performance, 2 medium and 4 energy efficient cores. No details are known about them, but it is reported that the performance of the new CPU is 80% faster than the Snapdragon 765G processor, which was equipped with the Pixel 5.
In turn, the GPU contains 20 cores and is 4.7 times faster than the Snapdragon 765G GPU. In the GFXBench Aztec Ruins High (off-screen) benchmark, the peak and steady performance of the Pixel 5 is 11 fps, respectively, in new smartphones, at least the peak should be at 50 fps (if of course we take this benchmark as a basis). For comparison, the ZTE Axon 30 Ultra (Snapdragon 888) has a peak and sustained performance of 31 and 27 fps, while the iPhone 13 Pro (A15 Bionic) has 54 and 33 fps. So, depending on the level of throttling, there is a chance that Google Tensor will be the most powerful Android smartphone, or even surpass the iPhone 13.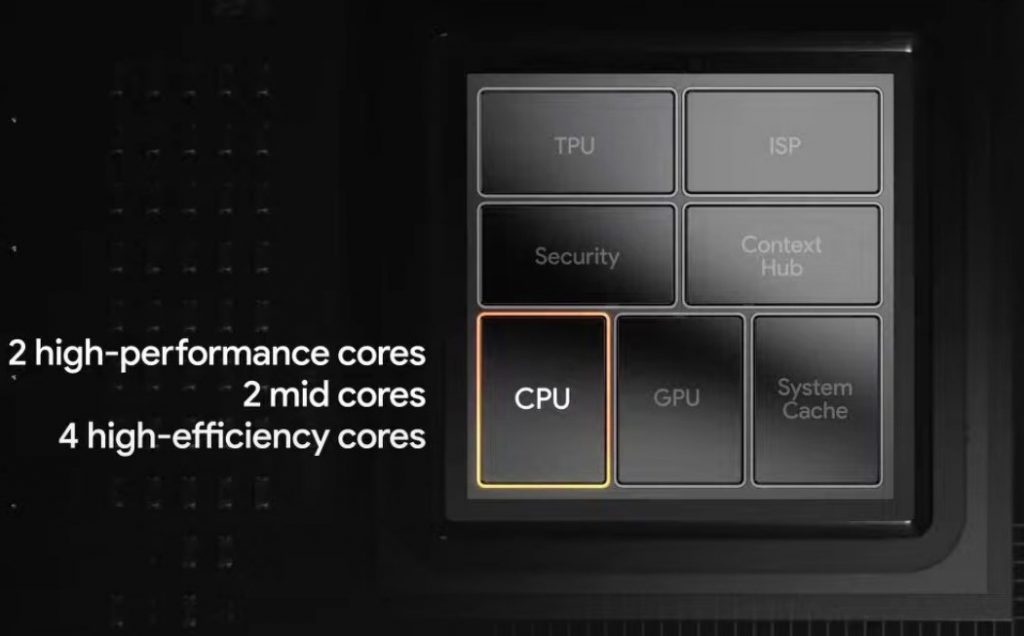 As for the TPU (tensor co-processor), its nominal performance is not reported. But it is also not so important given the real possibilities available thanks to artificial intelligence technologies. The improved performance of Google Tensor has made it possible to apply the technologies that impressed us so much in photography three years ago in video. Among other things, these are:
Magic Eraser – removal of unwanted objects in captured (including long ago) photos;
Face Ublur – removing blur by automatically combining and processing images taken from different camera modules;
Motion Mode – the effect of motion by automatically adding blur to the background or, conversely, moving elements of the frame;
Quick Tap to Snap – launch the Snap application by double tapping on the back panel;
Real Tone – improved processing of photos of dark-skinned people.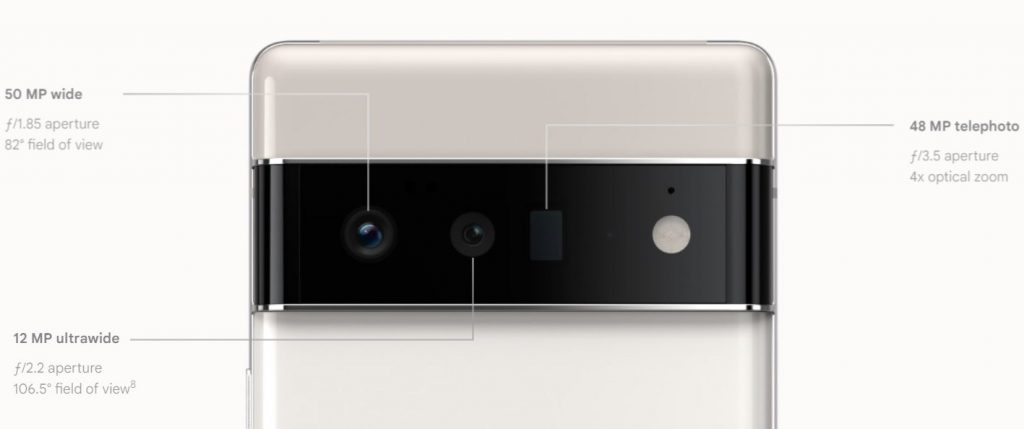 Another application of machine learning is natural language processing. For example, voice input of text messages (which promises to be 3 times faster than manual typing) – including simultaneous translation into another language. Moreover, this opportunity is present not only in the built-in Messages application (through which you send SMS), but also in WhatsApp, Google Chat, Snapchat. Instagram, Twitter, Line and "a growing list of other messengers". Google says that from now on, you can translate any audio in any source – for example, watch foreign videos on YouTube or Instagram in your native language. The translator is also built into the camera, so you can translate restaurant menus, road signs, etc. on the fly. And of course, a voice translator – with the Pixel 6, you can translate speech from 48 languages. Who knows – maybe in a few years the translator will speak in the voice of the owner of this wonderful application.
When Google unveiled the Pixel 6 with the Pixel 6 Pro in August and it was revealed that they were equipped with its own processor, I assumed that these are the main smartphones of this year. And perhaps this is true. First of all, of course, thanks to the processor. For the first time in many years, a smartphone with a chip has appeared in the top segment, which was not designed by Qualcomm, Samsung, Huawei, MediaTek or Apple, but a newcomer to the mobile processor business. It doesn't look like Google is going to sell its Tensor to other companies yet – it's an integral part of the functionality that Pixel 6 owners with Pixel 6 Pro provide. As artificial intelligence technologies develop, their adoption is becoming an ever greater competitive advantage, and in this regard, the software giant Google has a pretty good future. Especially considering the moderate price tag – for example, the iPhone 13 mini, iPhone 13, iPhone 13 Pro and iPhone 13 Pro Max are offered in the US from $ 700, $ 800, $ 1000 and $ 1100 respectively.
American sales of new Google smartphones will start on October 28, there will still be no official sales in Russia.
We would like to thank the writer of this article for this incredible content

Pixel 6 and Pixel 6 Pro: detailed specifications and functionality | Gadgets News