The new MacBook Pro with M1 Pro and M1 Max processors is a week away from sales, but at least two popular benchmarks, Geekbench and GBXBench, have already published their first test results on the websites of at least two popular benchmarks. The test results in another benchmark, Cinebench R23, were published by our colleagues from CPU-Monkey. We bring them to your attention along with the data of several other processors and graphics accelerators for comparison (in parentheses – the ratio between the M1 Max and the most productive processor or video card in these tests):
Cinebench R23
(single-core / multi-core)
Geekbench 5
(single-core / multi-core)
GBXBench Aztec Ruins High Tier
(off-screen)
Apple M1 Max
1,562 / 14,970
(82% / 50%)
1,740 / 12,575
(95% / 72%)
293 fps
(57%)
Apple M1 Pro
1,562 / 14,970
1,740 / 12,575
165 fps
Apple M1
1,503 / 7,759
1,712 / 7,442
71 fps
Intel Core i9-12900K (for PC)
1,896 / 29,785
1,834 / 17,370
—
Intel Core i9-11980HK (for laptops)
1,574 / 13,977
1,613 / 9,884
—
Intel Core i7-1185G7 (for laptops)
1,538 / 6,264
1,412 / 4,856
—
Nvidia GeForce RTX 3090 (for PC)
—
—
512 fps
Nvidia GeForce RTX 3080 (for laptops)
—
—
274 fps
It should be immediately stipulated that, firstly, this is unverified data, and secondly, GBXBench is not the most suitable benchmark for assessing the graphics performance of a laptop. At the same time, the results obtained are quite consistent with Apple's statements about a 70% increase in the performance of the M1 Pro / Max CPU compared to the M1, its compliance with the Intel Core i9-11980HK and the compliance of the M1 Max GPU with the top-end Nvidia graphics card (GeForce RTX 3080) for laptops. By the way, such a bundle, Intel Core i9-11980HK with Nvidia GeForce RTX 3080, is found in top gaming laptops – for example, Gigabyte Aero 17 HDR YD (the price in one of the Russian online stores is ₽290 thousand).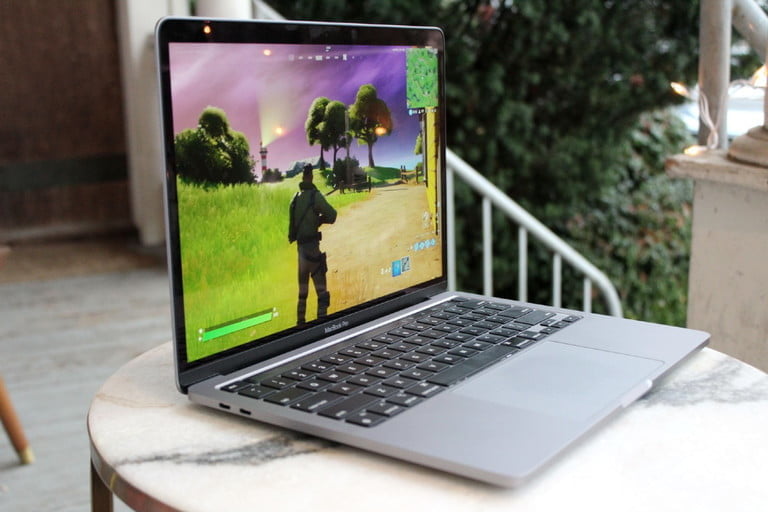 Of course, many are now wondering about the application of this outstanding performance. Obviously, the MacBook Pro is primarily designed to work with computer graphics and video – they take full advantage of the computing power of the M1 Max and M1 Pro. However, it is quite obvious that even with the lack of hardware support for ray tracing, it makes the MacBook Pro an excellent gaming platform. Which is still missing the smallest thing – games that could be run natively on macOS.
Are the new processors and their future successors capable of changing the alignment of the gaming market? In my opinion, this is quite real. Apple has all the necessary prerequisites for this: 1) its own ecosystem, from the operating system and Metal API to high-performance SoCs, 2) established relationships with developers, 3) huge financial resources (allowing, for example, subsidizing and buying game studios), 4) big market.
Let us dwell on the last point in more detail. According to Statista forecasts, MacBook sales in 2021 will amount to 17 million units. For comparison, the newest PlayStation 5 has sold 10 million units in more than eight months since its release. If the next year the M1 Max is equipped with a significant part of the laptops or PCs sold by Apple, then it will turn out to be a completely mass platform. Moreover, it cannot be ruled out that Apple will release a separate game console, for which it will regularly subsidize exclusives – like the Arcade service for its smartphones and tablets. How true all these assumptions are likely to become clear in the next year or two.
We would like to thank the writer of this short article for this remarkable material

Apple M1 Max: Preliminary Benchmark Results | Gadgets News