The Chromebook is on the rise and we see them appearing more and more. But what exactly are the benefits of a Chromebook? And why should you buy a Chromebook? We've made a list of why it's worth considering. Oh yeah, we're also giving one away right away…
Chromebooks (and the giveaway)
At a time when there is a lot of work from home, the demand for portable devices has increased considerably. This has done the Chromebook market well and many are sold. For us, of course, a reason to list five interesting points, but also certainly to give away a Chromebook.
In collaboration with Google, we are giving away the HP x360 14b-ca0500nd. A Chromebook that you can use in several ways: as a laptop, but also as a tablet. To find out more about this Chromebook and giveaway, scroll to the end of this article and read how you can win!
1. Extremely affordable
One thing that stands out about Chromebooks is that they are generally very affordable. The price of these 'laptops' starts at about 200 euros and this is of course much lower than devices with Windows and MacOS.
Chromebooks are made by various manufacturers, such as HP, Acer, Asus and Lenovo. They all offer their own models, but the operating system, Chrome OS, is the same everywhere.
2. Long battery life: keep working for a long time
Another notable feature of Chromebooks is the fact that they have a long battery life. Because Chrome OS is relatively economical and is mainly made to work online, the battery life is very long.
This of course differs from model to model, but theoretically you should get through a working day without having to charge the Chromebook extra.
Also read: Best Chromebooks to buy right now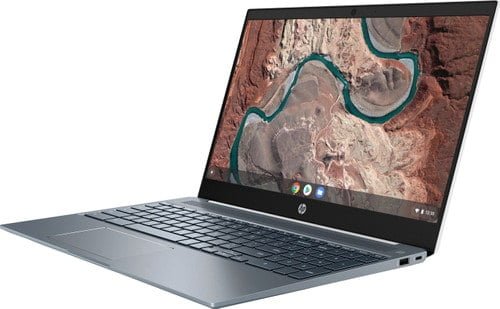 3. Apps, apps and more apps
Chrome OS, the operating system of Chromebooks, is made by Google. In addition to the search engine, Google is also the maker of Android, which is of course very useful when it comes to apps.
Google has ensured that you can also install almost all Android apps on a Chromebook. As a result, there is a good chance that your favorite app can also run on a Chromebook.
It is even possible to play games like FIFA using cloud gaming service Google Stadia. This allows you to play console-quality games on your Chromebook.
4. Automatic updates
If you used to work with Windows or with MacOS (Macbook), you will know that updates can be 'a thing'. These always have to be installed manually and that now always happens exactly at those moments when it just doesn't work out.
Chrome OS is updated automatically by Google at the back. This means that you will not notice the updates that are performed and that your operating system is always up-to-date. Such a safe feeling.
5. Lightweight and easy to carry
Whether you a Chromebook for school want to use, work on or stream media, it is useful if a device is portable and easy to carry. This is also the case with most models.
These are very lightweight and therefore ideal to take with you. Depending on the model, you can also use them as a tablet, giving you a handy device for when you're on the go, for example to watch Netflix.
Win de HP Chromebook x360 14b-ca0500nd
In collaboration with Google we can give away a Chromebook, theHP Chromebook x360 14b-ca0500nd. This so-called convertible can be used as a laptop, but also as a tablet by folding it over and using the touchscreen for operation.
Before I tell you how to win this Chromebook, let's take a look at some details:
14 inch touchscreen
Can be used as a laptop and tablet
11 hours battery life
128GB storage
With these specs you have an interesting Chromebook that you can use for many purposes. Whether it's work, school or entertainment, it's versatile.
How can you win?
Fortunately, participating is not difficult, because we raffle the Chromebook among everyone who is registered for our newsletter. So sign up below. We will announce the winner on Friday December 17, 2021 by email and also share it on our Facebook page.
We want to say thanks to the author of this short article for this amazing content

5 reasons why a Chromebook is a good choice